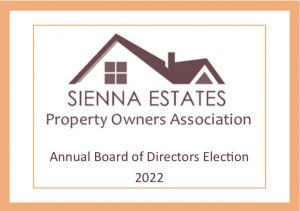 Who: Any homeowner who is in good standing with the POA may run for a seat on the board. A member in good standing will have no outstanding POA dues and no outstanding covenant violations. 
What: Homeowners must send an email to sienna.estates.inbox@gmail.com declaring intent to run. Include a headshot photo and a short bio. 
When: All candidate submissions must be received via email by November 3, 2021. 
How: Ballots will be mailed via US Mail the first week in December to the address we have on file for each property. Paper ballots and alternative methods of voting will be made available. Ballots must be signed by the first named person on the deed. Ballots signed by any other person will be deemed invalid. If you are unsure who is the first person listed on your deed you can look it up at:
https://www.search.bentoncircuitclerk.com/search.php
Voting will take place over a 30 day period from December 11, 2021- January 12, 2022. 
Ballots must be received no later than January 12, 2022 to be valid. 
***Per the bylaws, for there to be a valid election, a quorum must be achieved, which is 51% of the voting membership (274 votes). If there are not sufficient votes to achieve a quorum by the time of the annual meeting, which is scheduled for January 12, 2022,  the current Board would then be responsible for appointing the future board. Also, in accordance with the bylaws, the Board has voted to suspend the POA membership (voting) rights of any members who have not paid their dues.